How Square Digital is Helping Content Creators Scale Their Content for Modern Audiences
In this day and age, social media is very much a part of everyday life, and that is not going to change anytime soon.
This content creation agency helped Youtuber Mason Versluis to output content at scale and generated an extra 2 Million views for him on TikTok in October, which resulted in an influx of new subscribers on Mason's Youtube channel and more TikTok followers.
This content creation agency is producing content at scale, helping content creators output more content on a daily basis. Social media is not just a fantastic form of entertainment, it's also one of the most important and powerful marketing and advertising tools for businesses, large and small, in every industry imaginable.
If you can harness the power of social media and use it to your advantage, you will reap the rewards financially, as well as emotionally. The problem is that, because social media is such a prevalent part of modern living, getting the right exposure and reaching your target demographic is harder than ever.
It's all well and good creating engaging and insightful content, but if your content isn't being seen by audiences, what's the point in making it? This is where Square Digital enters the mix. With a wealth of experience behind them, collaborations with some of the biggest YouTubers and influencers in the industry today, and a track record that speaks for itself, it's easy to see why this company is making waves in the world of social media.
Who are Square Digital?
The brainchild behind the team of Square Digital is the young up and comer Juan Carlos Lara, video editor and creative director. Square Digital is a content creation agency that was created to help social media users get maximum value from their content.
Square Digital are unlike many other similar agencies out there as they tailor their services specifically for their clients, rather than adopting a 'one size fits all' approach that so many other agencies out there seem to favour.
Square Digital places an emphasis on the power of video, and why wouldn't they? After all, video is the highest performing media online right now, just look at TikTok, YouTube Shorts and Instagram Reels. They make content based upon your brand and repurpose your existing content on YouTube into Shorts, Instagram Reels, and TikToks.
One thing we love about Square Digital is that content is created at scale and each project is unique. It doesn't matter what your business or channel is promoting, Square Digital can create and deliver the content you require every single time.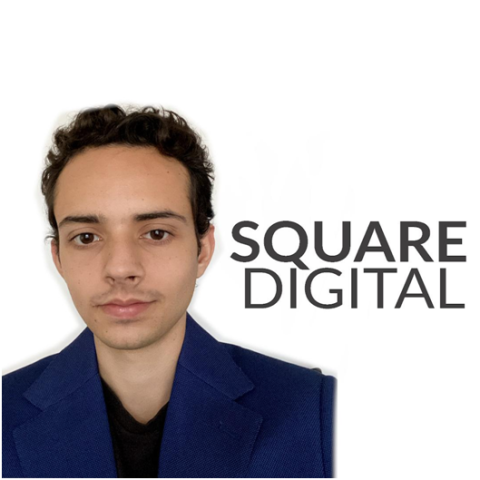 Why Choose Square Digital?
As you can probably gather, Square Digital are quickly establishing themselves as one of the top social media content creation agencies online right now, but why should you hire them?
One of the main reasons why Square Digital has proved to be such a hit in the world of social media, is the fact that they produce engaging content tailored exclusively for their client's audiences.
Square Digital is able to leverage content to be posted on social media on a daily basis. This helps keep audiences engaged and means your socials have a constant stream of content which translates to more likes, shares and followers.
Square Digital provides rapid video content for you to post at your leisure, to help reach your target and key demographics and grow your social media presence.
Trusted by big name YouTubers and Influencers
What Juan Carlos Lara has been able to achieve with Square Digital in a relatively short amount of time is nothing short of amazing.
Square Digital has worked with some of the biggest names in YouTube and social media, including: Sheldon Evans, Crypto Mason, Taylor Jackson, and many more…
What's Next for Square Digital?
To say that the future's bright for Square Digital would be a massive understatement on our part.
The company is going from strength to strength, they're showing the power of video, and they're helping their clients leverage this power to grow their socials, businesses, and online presence, without having to lift a finger.
It's clear that Juan Carlos Lara is incredibly passionate about video, and this shows in his business.
Media Contact
Company Name: Square Digital
Contact Person: Juan Carlos Lara
Email: Send Email
Country: Canada
Website: www.squaredigital.one