The Acute Gout Flare Market to Grow Positively at a Significant CAGR During the Study Period (2019-2032), estimates DelveInsight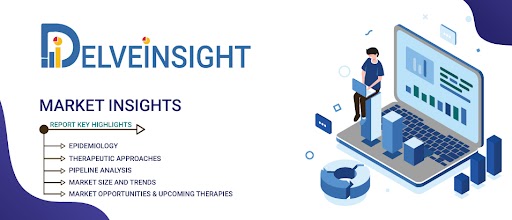 DelveInsight's "Acute Gout Flare Market Insight, Epidemiology and Market Forecast 2032" report provides current treatment practices, emerging drugs, Acute Gout Flare market share of the individual therapies, current and forecasted Acute Gout Flare market size from 2019 to 2032 segmented by seven major markets. The report also offers current Acute Gout Flare therapy algorithms, market drivers, market barriers, and unmet medical needs to curate the best of the opportunities and assesses the underlying potential of the Acute Gout Flare market.
Acute Gout Flare Overview
Gout is a common and complex form of arthritis that can affect anyone. It's characterized by sudden, severe attacks of pain, swelling, redness and tenderness in one or more joints, most often in the big toe.
An attack of gout can occur suddenly, often waking you up in the middle of the night with the sensation that your big toe is on fire. The affected joint is hot, swollen and so tender that even the weight of the bedsheet on it may seem intolerable.
Gout symptoms may come and go, but there are ways to manage symptoms and prevent flares.
Acute Gout Flare Epidemiological Insights
Gout is a common cause of inflammatory arthritis. Among the United States adult population, the gout prevalence is 3.9%.
Acute Gout Flare Treatment Market
Current guidelines from the American College of Rheumatology (ACR) and the European League Against Rheumatism (EULAR) advise that long-term urate-lowering therapy (ULT), with the aim of maintaining serum urate levels (generally below 6 mg/dL), is key to effective control of gout and should be initiated in the presence of certain clinical features: for example, tophi, frequent gouty attacks (flares; two or more per year), and urate arthropathy.
Effective options for the treatment of the acute attack include non-steroidal anti-inflammatory drugs (NSAIDs), intra-articular corticosteroids and systemic corticosteroid therapy. With respect to efficacy (although not toxicity) the rapidity with which therapy is commenced appears to be more important than which medication is used. The best choice is often determined by whether or not there are contraindications to NSAID use, such as renal or cardiac insufficiency or a history of peptic ulceration.
Provided synovial fluid has been sent for analysis, including culture, it is reasonable to administer intra-articular corticosteroid immediately following joint aspiration (without removing the needle from the joint) when gout appears likely, even though sepsis has not yet been excluded. Systemic corticosteroid therapy can be provided as oral prednisone 20–40 mg daily in divided doses reducing to zero in 10–14 days or intramuscular depot tetracosactrin 1 mg, a synthetic analog of ACTH.
Promising Therapies in the Acute Gout Flare Pipeline
DYV700
RPH – 104
Anakinra
And others
Discover more about Acute Gout Flare therapies in the pipeline @ Acute Gout Flare Drugs
Leading Companies Working in the Acute Gout Flare Market
Dyve Biosciences, Inc.
R-Pharm
Swedish Orphan Biovitrum
And others
To understand key companies related to the Acute Gout Flare Market, get a snapshot of the Acute Gout Flare Regulatory and Patent Analysis.
Scope of the Acute Gout Flare Market Report
Study Period: 2019–2032
Coverage: 7MM [The United States, EU5 (Germany, France, Italy, Spain, and the United Kingdom), Japan]
Key Acute Gout Flare Companies: Dyve Biosciences, Inc., R-Pharm, Swedish Orphan Biovitrum, and others.
Key Acute Gout Flare Pipeline Therapies: DYV700, RPH – 104, Anakinra, and others
Therapeutic Assessment: Acute Gout Flare current marketed and emerging therapies
Acute Gout Flare Market Dynamics: Acute Gout Flare market drivers and barriers
Competitive Intelligence Analysis: SWOT analysis, PESTLE analysis, Porter's five forces, BCG Matrix, Market entry strategies
Unmet Needs, KOL's views, Analyst's views, Acute Gout Flare Market Access and Reimbursement
Table of Contents
1. Acute Gout Flare Market Key Insights
2. Acute Gout Flare Market Report Introduction
3. Acute Gout Flare Market Overview at a Glance
4. Acute Gout Flare Market Executive Summary
5. Disease Background and Overview
6. Acute Gout Flare Treatment and Management
7. Acute Gout Flare Epidemiology and Patient Population
8. Patient Journey
9. Acute Gout Flare Emerging Drugs
10. 7MM Acute Gout Flare Market Analysis
11. Acute Gout Flare Market Outlook
12. Potential of Current and Emerging Therapies
13. KOL Views
14. Acute Gout Flare Market Drivers
15. Acute Gout Flare Market Barriers
16. Unmet Needs
17. SWOT Analysis
18. Appendix
19. DelveInsight Capabilities
20. Disclaimer
21. About DelveInsight
Trending Report Offerings by DelveInsight:
Gender Dysphoria Market
Germany Healthcare Outlook Market
Hyperlipidemia Market
Mammography Devices Market
Dental Equipment Market
Adalimumab Biosimilar Market
Hyperlipidemia Market
Metastatic Cutaneous Squamous Cell Cancer Market
Mucopolysaccharidosis Market
About DelveInsight
DelveInsight is a leading Business Consultant and Market Research firm focused exclusively on life sciences. It supports pharma companies by providing comprehensive end-to-end solutions to improve their performance. Get hassle-free access to all the healthcare and pharma market research reports through our subscription-based platform PharmDelve.
Contact Us
Kritika Rehani
+1(919)321-6187
Media Contact
Company Name: DelveInsight Business Research LLP
Contact Person: Kritika Rehani
Email: Send Email
Phone: 9193216187
Address:304 S. Jones Blvd #2432
City: Las Vegas
State: Nevada
Country: United States
Website: https://www.delveinsight.com/