Aleksandra Baengueva Is Helping to Change the Face of UX/UI Design
She is an award-winning UX/UI and product designer and a leading woman in STEM who currently works for the world's largest publicly traded property and casualty insurance company, Chubb.
New York, NY, USA – February 27, 2023 – Aleksandra Baengueva has worked with numerous illustrious companies over the years, including Gizmodo, The Root, The Onion, Jalopnik, and Chubb. At Chubb, the world's largest publicly traded insurance company, Aleksandra is part of the digital transformation office, where she now makes changes to the insurance industry by focusing on creating user-friendly interfaces that make navigating complex insurance products and services easier for customers.
Aleksandra also develops UX strategies to customize the user journey, enabling customers to quickly find what they need without confusion or frustration. She explains enhancing UX/UI design can help reduce customer churn and increase customer satisfaction, as customers can quickly and easily access the information they need from the insurance website. Aleksandra also optimizes the website design for different devices and platforms, making it accessible to all users. Her exceptional design skills and passion for supporting users have been key to her success.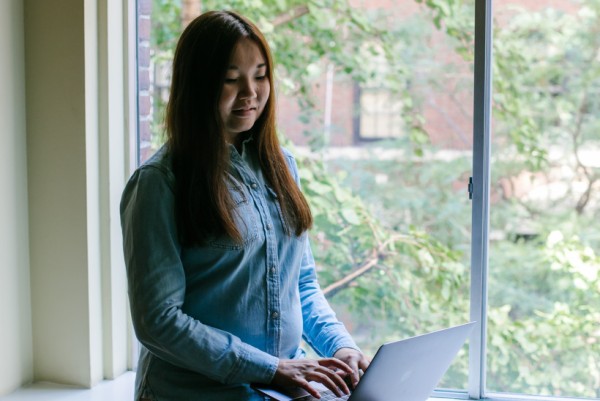 Aleksandra advocates for greater inclusion of women in STEM fields and offers advice and guidance to those who wish to pursue careers in this area. She first encountered STEM concepts while studying technical aspects of web design and UX/UI design in college. She believes that STEM education provides the necessary tools for success in the technology industry. Moreover, a strong STEM education can help women develop leadership skills and innovative problem-solving techniques, enabling them to contribute and make an impact. Lastly, promoting a more diverse workforce through STEM education leads to fresh perspectives and a stronger industry.
Aleksandra's exceptional work has earned her numerous awards and recognition for her unique design style. As a leading figure in the industry, she also serves as a member of jury panels for prestigious recognition awards, including the Webby Awards, Lovie Awards, Communicator Awards, Davey Awards, and W3 Awards in the category of Websites and Mobile Sites. Additionally, she has played a pivotal role in helping various ventures create effective communication with their customers through aesthetically pleasing, interactive, and user-friendly interfaces. This year, she is committed to continuing her work of assisting insurance of small businesses in ensuring the functionality of their products and enhancing their customers' user experience. She now has several exciting plans and goals for the future. One of her main objectives is to continue advocating for greater diversity and inclusion in the technology industry, particularly for women and underrepresented groups. She is also looking to expand her impact by sharing her knowledge and expertise through mentoring programs and jury panels. With her passion for design, her commitment to diversity and inclusion, and her dedication to helping businesses succeed, Aleksandra is sure to continue making a significant impact in the technology industry and beyond.
UX/UI Designers in the IT industry face a constantly evolving landscape that requires ongoing learning and adaptation. Technological advancements, changes in political and economic conditions, emerging global health concerns, and new communication methods can all serve as inspiration for designers seeking to create impactful and useful products for their target audiences. As a result, the field is always dynamic, with new opportunities for innovation and growth. By embracing change and staying up-to-date with the latest developments, UX/UI designers can remain at the forefront of their profession and continue to make a meaningful impact.
About Aleksandra Baengueva:
Aleksandra's interest in digital design started at a young age, and she has been using Photoshop and Illustrator for as long as she can remember. After completing her undergraduate degree, she worked in the media planning department at Dentsu. It was during this time that she began to realize her hobby could become a passion. Aleksandra pursued a STEM program in Web and Multimedia Design at Touro College, where she worked as a digital designer and helped promote the college. Today, she is a key member of the digital transformation office at Chubb, and she also volunteers her time with an environmental organization, Save Baikal. Aleksandra created a website for Save Baikal, which has won multiple awards, including the Muse, Vega, Indigo, Summit Awards, and W3 Awards for the best website and mobile site for an environmental cause.
For more information, visit https://sashabaengueva.com
Media Contact
Company Name: SashaBaengueva.com
Contact Person: Media Relations
Email: Send Email
Phone: +1 347-909-6873
City: New York
State: NY
Country: United States
Website: www.sashabaengueva.com