Industrial Gases Sales Predicted to Boom in Coming Years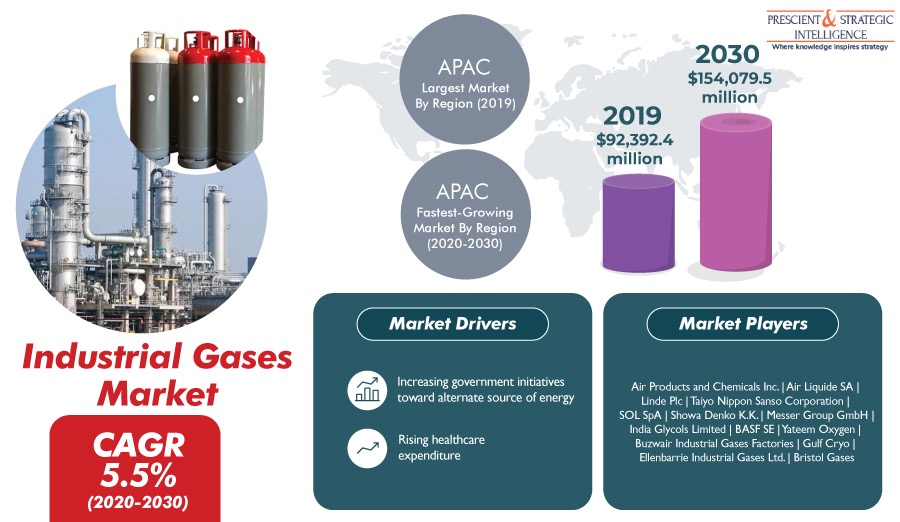 The Asia-Pacific industrial gases market generated the highest revenue in 2019, and it will continue to do so during the forecast period.
With the continuous population growth and its migration to cities, manufacturing output is growing around the world. Considering how diverse the things made in factories are, the raw materials used to create them are equally diverse. One of the key raw materials used across industries is several types of gases, such as oxygen, hydrogen, nitrogen, carbon dioxide, acetylene, argon, and helium, either as ingredients in the intermediate or final products or to support various manufacturing processes.
Thus, with the growing manufacturing output, the industrial gases market revenue is set to reach $154,079.5 million by 2030 from $92,392.4 million in 2019, at a 5.5% CAGR during 2020–2030 (forecast period). Thus, seeing the widening scope for themselves, market players are entering into mergers and acquisitions to expand their portfolio, geographical reach, technical knowledge, and customer pool. For instance, in October 2018, Praxair Inc. and Linde AG merged to cumulatively increase their revenue. Similarly, Air Liquide S.A. acquired Baywater Healthcare Ireland Limited in June 2015 to grow its Irish home healthcare business.
Download report sample at: https://www.psmarketresearch.com/market-analysis/industrial-gases-market/report-sample
Due to the rising number of COVID-19 patients, the demand for ventilators and medical oxygen and other gases used for anesthetizing patients is surging, which is impacting the industrial gases market positively. Presently, India is witnessing a massive shortage of oxygen at hospitals, which is why scores of people are dying at once. Thus, efforts are being made on the national level to source oxygen not only from within but also from outside the country. For instance, Indian Railways has ferried more than 675 tankers, carrying over 10,300 metric tonnes (MT) of liquid medical oxygen, across the country till May 18, 2021.
Another important driver for the industrial gases market in present times is the rising production of renewable energy, owing to the surging emission of greenhouse gases into the atmosphere from the burning of fossil fuels and the depleting oil, coal, and natural gas reserves. In the renewable energy sector, numerous gases are used for the production of wafers and stem the loss of silicon during ingot sewing. Similarly, hydrogen is being increasingly used to generate propulsive power in fuel-cell electric vehicles (FCEVs).
Owing to all such factors, P&S Intelligence attributes the highest industrial gas consumption to Asia-Pacific (APAC), the region with the most people, highest production output, and largest transportation sector. In addition, China and India are two of the biggest producers of solar energy, with their 2020 installed capacity standing at 254,354.800 Megawatts (MW) and 39,211.158 MW, respectively, as per the International Renewable Energy Agency (IRENA). As a result, the demand for industrial gases will continue burgeoning in the region in the years to come.
Thus, with the growing industrial output, healthcare spending, and renewable energy production, the demand for various industrial gases will increase.
Browse full report at: https://www.psmarketresearch.com/market-analysis/industrial-gases-market
Market Size Breakdown by Segment
By Type
Hydrogen
Oxygen
Carbon Dioxide
Nitrogen
Helium
Argon
Acetylene
By Delivery
Bulk Container
Cylinder
On-Site Generation
By End User
Oil & Gas and Petrochemical
Chemical
Food Processing
Healthcare
Electronics
Metal Processing
Geographical Analysis
North America
Europe

Germany
France
U.K.
Italy
Spain

Asia-Pacific

China
India
Japan
South Korea

Latin America
Middle East and Africa

Saudi Arabia
South Africa
U.A.E.
Turkey
Browse Other Reports
Benzalkonium Chloride Market
In the coming years, the highest value CAGR in the benzalkonium chloride market, of 10.0%, on the basis of application, will be witnessed by the disinfectants category. There are stringent regulations requiring hospitals and diagnostic, research, biotechnology and pharmaceutical laboratories to be disinfected on a regular basis. Another factor driving the demand for disinfectants and, in turn, benzalkonium chloride, is the increasing incidence of hospital-acquired infections (HAI).
https://www.psmarketresearch.com/market-analysis/benzalkonium-chloride-market
Microfiltration Membrane Market
Across the globe, the microfiltration membrane market is predicted to exhibit the fastest growth in Asia-Pacific (APAC) in the upcoming years. This would be a result of the rapid rise in the requirement for fresh water in various developing nations such as India, China, Vietnam, and Thailand. In addition to this, the support of the governments of the regional countries regarding the treatment of industrial wastewater is predicted to boost the market growth in the region in the forthcoming years.
https://www.psmarketresearch.com/market-analysis/membrane-microfiltration-market
Media Contact
Company Name: P&S Intelligence
Contact Person: Abhishek
Email: Send Email
Phone: +918887787886
Address:Noida Sector 2
City: Noida
State: UP
Country: India
Website: https://www.psmarketresearch.com